Latest Improvements in knowledge management Dynamics CRM 2016
In this post, Microsoft dynamics CRM development experts explain the need of a knowledge article, latest features and enhancements made in knowledge management. You can read more here.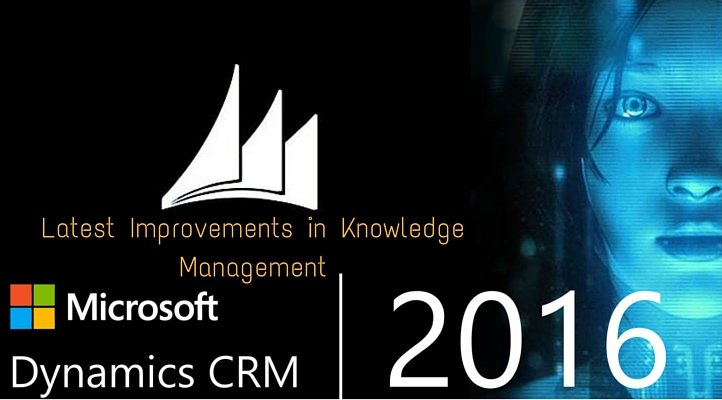 Dynamics CRM 2016, is bringing new features and improvements over its predecessors.
Today I want to talk a little about the new knowledge base, for which we must mention that it is not an optimization on traditional KB, because the Microsoft team has decided to incorporate a new, parallel to the current, with access through the Interactive Service Hub.
| Articles | Knowledge Articles (2016) | Parature Integration |
| --- | --- | --- |
| Traditional CRM articles | Supports major and minor versions | Only available with CRM Online |
| Does not support knowledge search | Supports knowledge search | Supports all Parature capabilities |
| Limited editing options | Supports publishing to external portal | Supports knowledge search |
| No article expiration | Delayed publishing | Can be surfaced in USD |
| Limited translation options | Supports expiration and archiving | |
| No custom article life cycles | Supports multiple translations | |
| Limited analytics | Analytics | |
| | Full WYSIWYG Editor | |
Note: a big detail, there is currently no migration path from legacy knowledge base to new knowledge articles
Why Do You Want a Knowledge Article?
To expose as public facing for self-help
To empower CSRs to help customer solve problems
Track with CRM records for analytics

The new advanced article editing:
Images:

1) Can be located on local or external servers
2) Can be a clickable link

Link:

1) Add clickable hyperlinks or email addresses

Embed media:

1) Embed videos on your content

Source:

1) Open de html source code to embed videos and iframes
Article versioning:
Supports major and minor versioning
New version contains all content, info and permissions as previous version

1) There is a restriction in order to change de version number, language and article public number in the new version

Versions managed from the article

1) You could navigate to "Summary Tab -> Related Information -> Related Versions"

Article versions can be published, archived or deleted

1) Only one version can be published at a time
2) You cannot recover a deleted version

Translations:
Available languages are independent from language packs installed

1) o 164 languages out of the box

A new version of the article for that language is created
Translation is not automatic
You can publish articles individually and publish with the primary language version
Scheduling and Publishing:
Can be published now or in the future
Can be published now or in the future
Published articles can have an expiration date
Approved translations can also be publish at the same time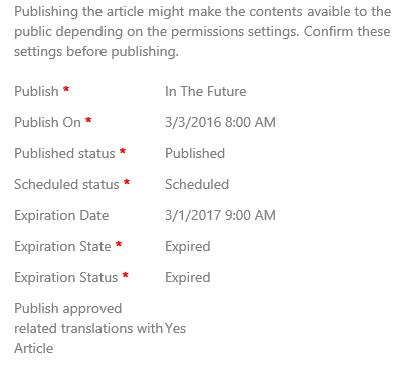 This is the new look and feel of the knowledge articles. As you can see, it looks like the tablet version: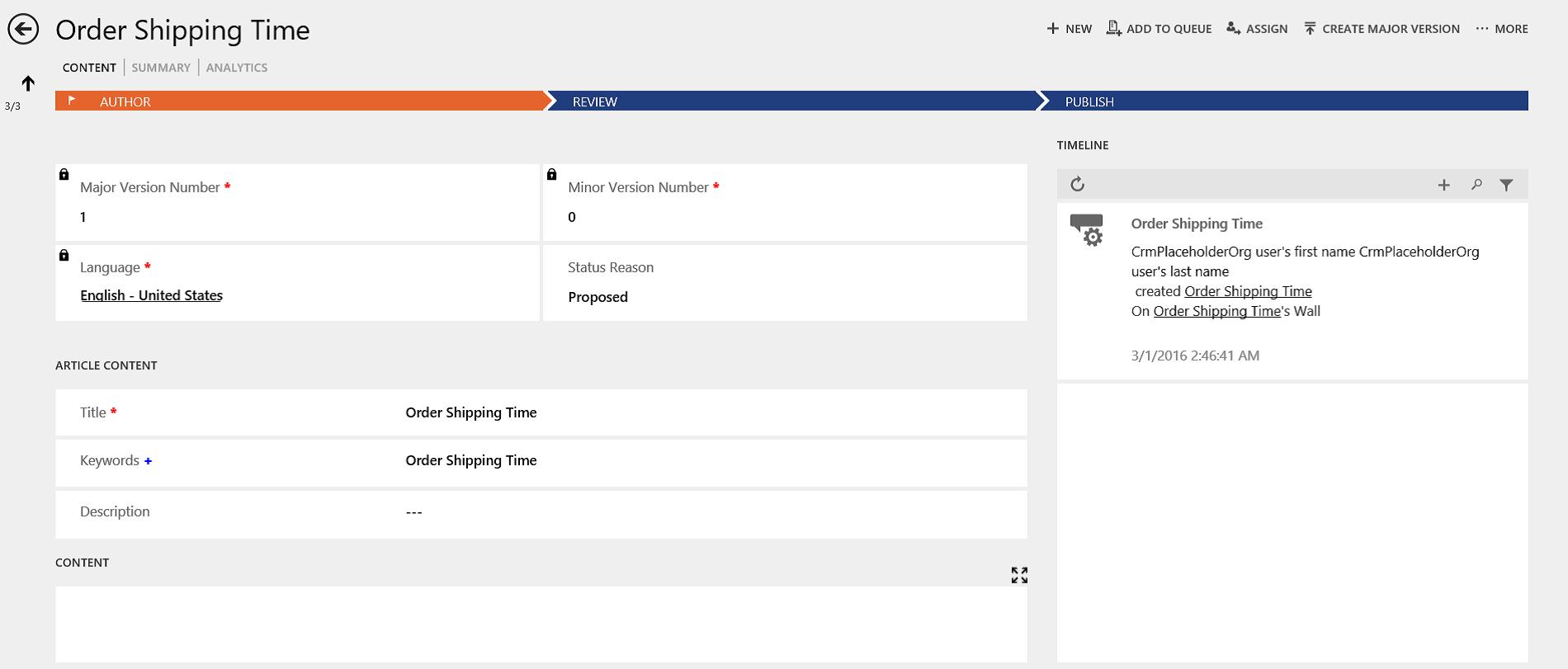 Searching the knowledge base:
Search either new CRM Knowledge Articles or Parature KB from CRM entity forms
Multi language support
Automatic search on Entity Attributes
Search as you type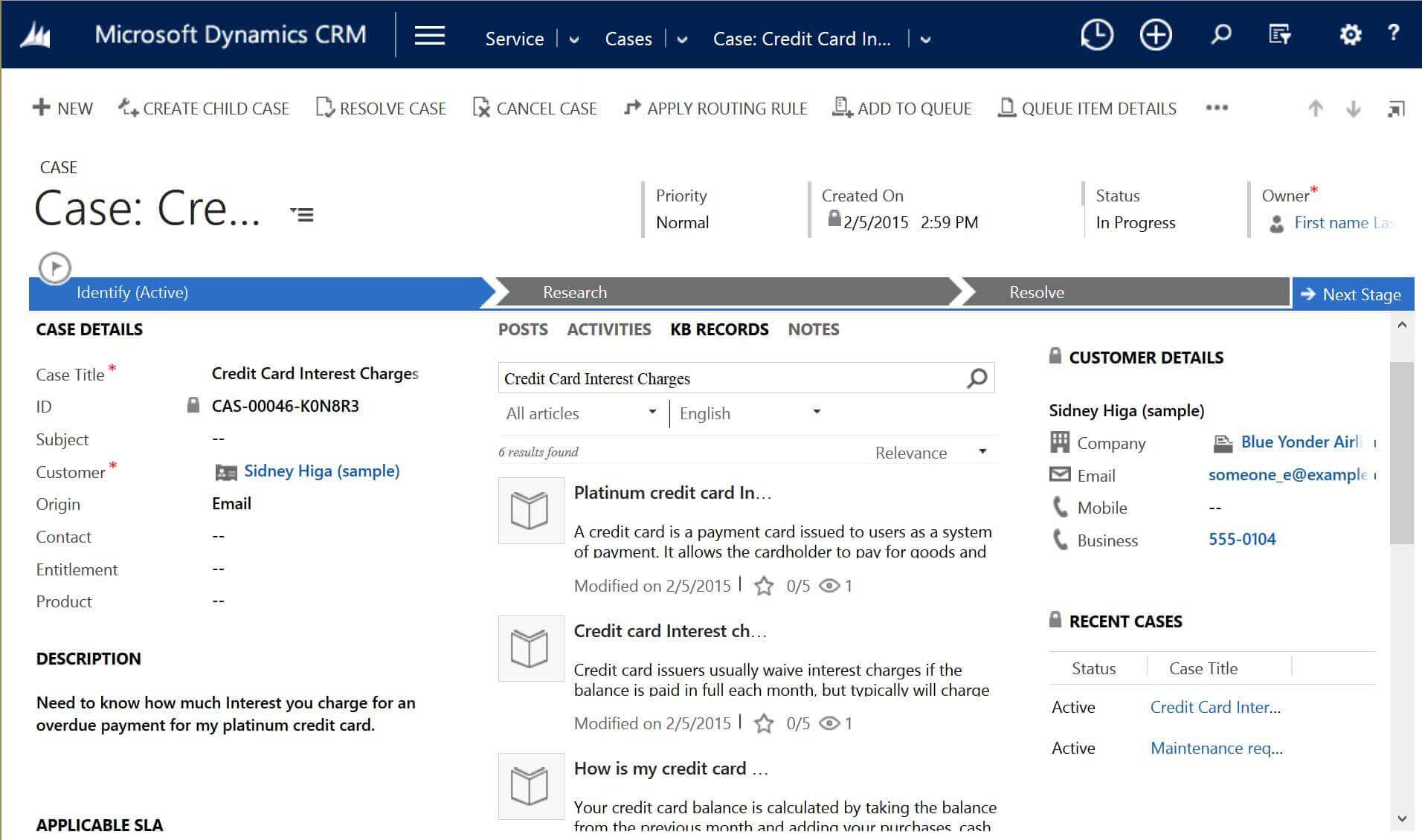 Acting on search results:
Read articles inline
Pop-out article to separate window
Email article external link to customers
Link an article to an entity record
In order to enable Knowledge search you need to go to Service Management Settings:
Enable entities here, can also enable on entity definition itself
Must select either CRM or Parature for the source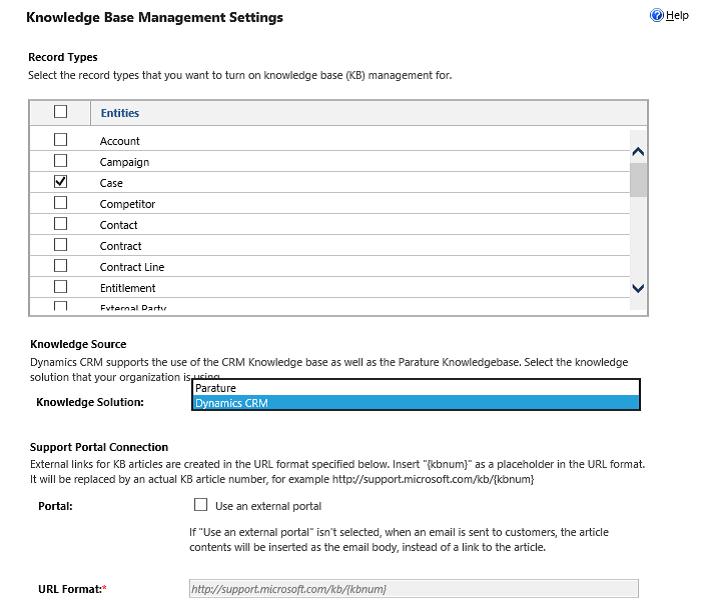 Review
There are multiple options for knowledge management in CRM 2016
Versioning can be used to provide greater flexibility and management
Multiple translations can be created for an Article
Hope this article will help you in understanding the improvements made to knowledge management. Feedback for this post is open. You can share your thoughts and let the author know about your doubt (if any), so that it can be resolved soon.
Author biography
Aaron Jacobson is a Microsoft Dynamics CRM professional and has written many articles related to CRM. This post has covered enhancements in knowledge management. Author has also mentioned the major characteristics and differences in this post. If you did not get any point or have doubts, write directly to the author via comment and wait for the response.