The new era of iOS 11 after iOS 10
Every gadget has different operating systems. The basic system and mechanism by which a gadget gets operated is its operating system. The iOS operating system was brought into existence by Apple Inc. mostly for its own hardware. Today, many iPhone application development company's mobiles use iOS as their operating system. iOS is the most popular operating system after android. Apple makes changes in iOS almost every year, adding new features to it. Accessing functions in iOS have been so wide that apple has been praised many times for providing this functionality. Coming on the much talked iOS 10 vs. iOS 11, it was September 13, 2016 when iOS 10 was released and the successor was released on June 5, 2017.
iOS10 vs. iOS11
A comparison of both operating systems has been the trending topic for a while. iOS 11 works on a system fully computed in 64 bits. But it is noticeable that iphone 5 and 5c work still on iOS 10 only. Only the apps upgraded to 64 bits will work on iOS 11. Every feature of iphone, iPad, iPod has gone through many changes, switching from iOS 10 to iOS 11. Various features have gone through the changes such as: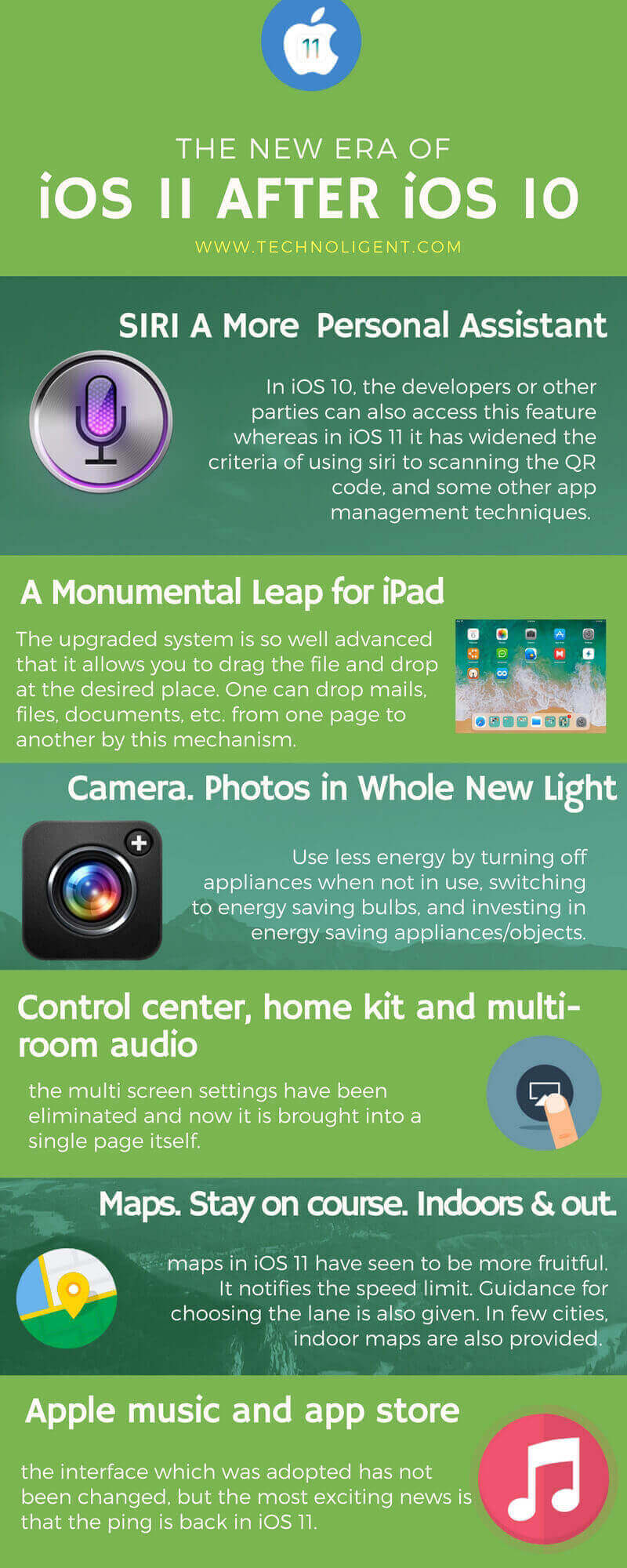 Siri
In iOS 10, the developers or other parties can also access this feature whereas in iOS 11 it has widened the criteria of using siri to scanning the QR code, and some other app management techniques. Apart from that siri has become way too intelligent than before. Now she can also translate between two languages. Siri now keeps a track on your needs according to the usage.
iPad
This is where the crowd is fascinating to. Considering the iPad, iOS 10's modified split view is much more modified in iOS 11. The upgraded system is so well advanced that it allows you to drag the file and drop at the desired place. One can drop mails, files, documents, etc. from one page to another by this mechanism.
Camera and photos
iOS 11's photos include advancements in iOS 10's features. Now live photos can be edited to create a loop. Various gestures and expressions can also be induced in the pictures.
Control center, home kit and multi-room audio
the multi screen settings have been eliminated and now it is brought into a single page itself.
Maps
maps in iOS 11 have seen to be more fruitful. It notifies the speed limit. Guidance for choosing the lane is also given. In few cities, indoor maps are also provided.
Messages and apple play
the whole app possesses the same features as that of iOS 10 but the clarity of app content is improved and it has included a feature called Apple pay which means you can ask for money from friends and you need not to leave the message app for that.
Apple music and app store
the interface which was adopted has not been changed, but the most exciting news is that the ping is back in iOS 11.
Though it would be tough for a group of people to adapt with iOS 11, it has the best features and upgraded technologies compared to iOS 10. Change is very certain in any well-developed system. Going with the flow makes it easy to go with.
Read More: