A Must Read Before Finalizing Your CRM Software
As an enterprise, you would have spent considerable time evaluating the pros and cons of implementing CRM, identifying challenges in the implementation, streamlining the best solutions, and reaching an agreement with the provider. While everything seems to be in place, you still might have a little bit more introspection to do before proceeding with the selected CRM solution.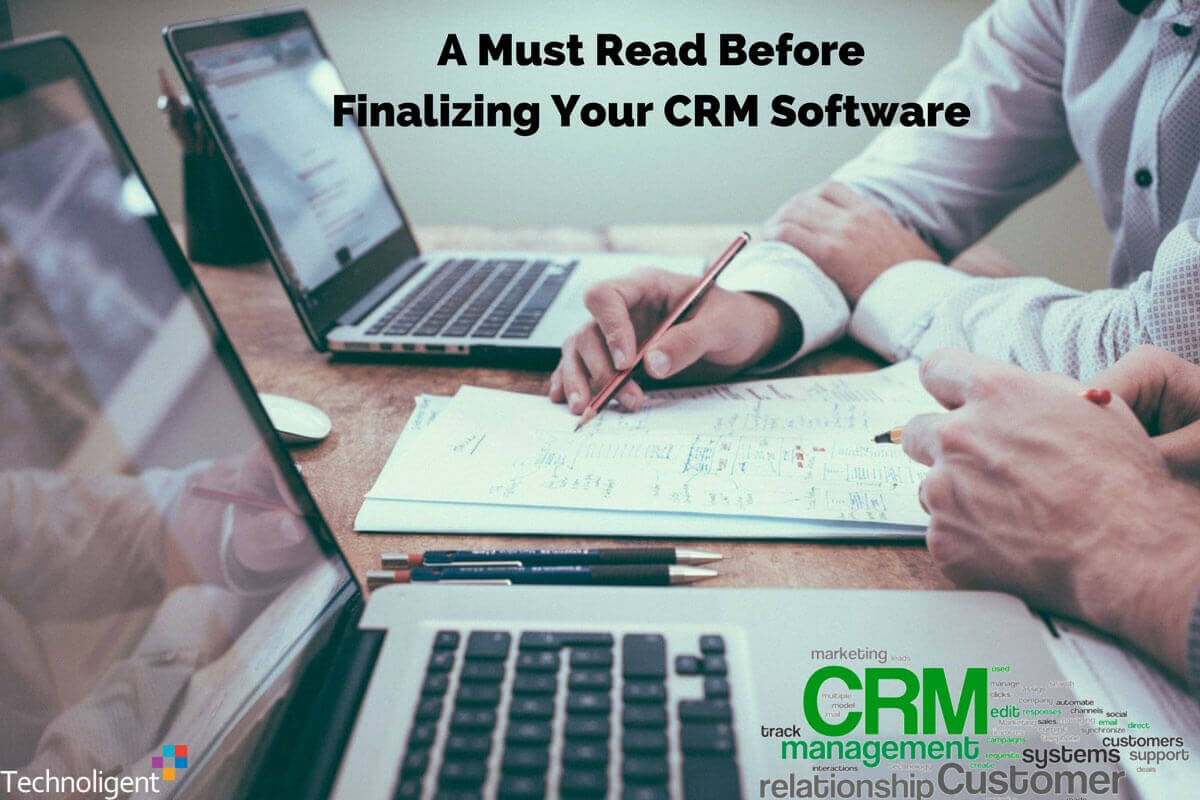 The success of a CRM solution depends on your readiness and willingness to adaptability. Along with the things that you have already analyzed, you need to give a considerable thought to your customers' and your expectations. It is because a CRM solution is a lot more than just a Software that will aide you in your day-to-day customer management. It can be an effective tool to enhance your customers' experience and boost your business. But, this depends on how efficiently you choose your CRM solution.
Customers First
Almost all CRM solution boasts about automation in customer interaction by sending personalized email reminders, promotional mails to prospective customers by analyzing the trends, etc. But, for some customers, all these emails are just spam. They might prefer browsing through a site and looking for things rather than get oodles of meaningless emails. This was an eye opener. Isn't it? Yet, this is the feature that is number one in the list of CRM solutions.
So, what is it that a customer wants? Well, the answer to this depends on your business. So, for example, you have an online medical store and you want to integrate Microsoft Dynamics CRM Solution and services. The first thing is to consider what your customers really want. Do you think they would be interested in getting mails about the discounts? or Would they be interested in getting details about your promotional events? If yes, then contact your solution provider and ask them about the specific features they have for the things your customers are looking for. These tailor-made features are what you should really evaluate because this is what your customers are looking for from a CRM solution.
You are Next
As a business enterprise, you are going to be using the CRM solution every day and at the end of the day, the features of a CRM solution have to serve the purpose you are looking for. It has to make your life easy without being too much of a trouble. Consider the questions like:
How will the exceptional-sounding features of your preferred CRM solution benefit you?
How will you integrate these in your daily operations?
What kind of financial and time investment would it require to equip your staff to use the CRM solution?
These are just some questions and there can be many more that you would need to think about before choosing a solution. Considering aspects like the support that you would get from a solution provider like Microsoft Dynamics CRM services will help you prepare in advance for the training that you are supposed to provide to your team. Another important consideration is that most of the time people involved in decision making are not the ones who are going to use the solution. Therefore, the decision is governed by factors which are not really centric to what the employees who will use it are looking for. Make sure you involve the users (employees) in such decisions or at least take their opinion on what matters.
With many major players like Microsoft, SAP, and SkillSoft offering CRM Software, you can be rest assured that the service will be top class but only you can decide the type of investment you would make and the estimate the returns based on the data and services. Hopefully, the factors discussed above will make it easy for you to select the best solution and make the most out of it.
Read More: